Clear Bra Highlands Ranch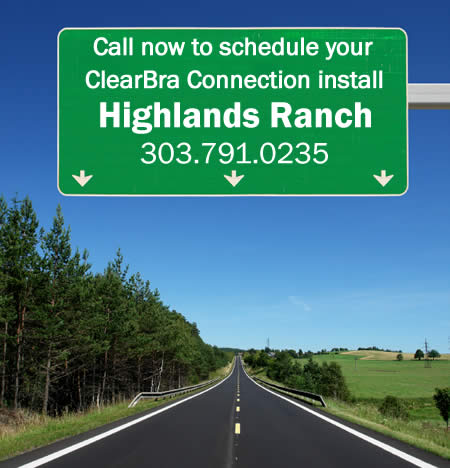 Driving conditions throughout Highlands Ranch can lead to paint damage to your vehicle reducing its value. A clear bra provides protection to the key areas of your car that are susceptible to damage. Our five zone clear bra package not only protects your car while travelling through Highlands Ranch and other places, but also prevents damage in parking lots and garages from other cars. Our mobile installers can often meet you the same day in Highlands Ranch to install your clear car bra. Be sure to choose ClearBra Connection to professionally install your clear auto bra, as poor workmanship and unskilled labor can actually lead to paint damage. Keep your vehicle looking like new and improve your resale value with a clear bra installed by ClearBra Connection! Call 303-791-0235 now to have your clear bra installed.
3m Clear Bra Highlands Ranch
Besides using the highest quality 3m clear bra materials, our installers have over 40 years of combined experience with clear automotive bra installation in Highlands Ranch. We use the same 3m material used by auto manufacturers to protect the finish on their new cars, however we approach every installation with the care and preparation of an artisan. Our experience and techniques ensure that no hard pressed lines, ripples, or bubbles are left in the film. Clear bra installation is often compared to gift wrapping a pretzel - no easy task. A 3m clear bra must be treated like art work to get the very best finished product. We strive to leave you with a finished product that has an original equipment appearance, maintaining that show room luster throughout your vehicles lifespan. All of Clear Bra Connection's installers are 3m clear bra certified.
Clear Automotive Bra Highlands Ranch
Time to say goodbye to ugly and poorly designed black vinyl car bras and plastic bug shields that can actually cause damage to the paint finish of your car. The clear automotive bra is a nearly invisible film that provides a second skin of protection over your car's paint. Years of retooling our installation has helped us arrive at a process that is highly regarded as the best in the industry. The result of a premier installation of a clear automotive bra is a virtually invisible barrier of protection between your vehicle and the roads you travel. Call 303-791-0235 for your clear automotive bra installation in Highlands Ranch!
Contact us today for your appointment. Don't be a victim of poor Clear Car Bra practices.
We proudly install the clear bra on a wide variety of makes and models of cars including: Chevy, Ford, Dodge, GMC, Chrysler, Cadillac, Honda, Nissan, Toyota, Lexus, Infinity, Acura, KIA, Hyundai, BMW, Mercedes Benz, Audi, Volvo, Volkswagen, and more.